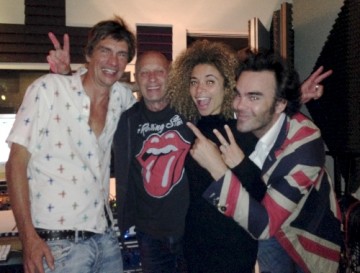 A lovely surprise to mix this album and spend some time with Nungan.
I didn't know what to expect when Manu Lanvin called me to say that he had an album for me to mix in his studio, Le Chocolaterie in Paris. I don't think he knew what kind of music it was himself! Luckily for me I loved it, it was right up my street. A great retro sound and feel to the songs with Annie's beautiful vocals and such lovely people.
Thoroughly enjoyed this project.
Thanks Manu.
Photo: The end of mixing, all happy!
Tracks
Flowerchild
For Good
Sun
Angel
Mother
Circle of Love
Is It Just Me
Soldier
Babydoll
Laisse Couler Le Flot (Spirit of Lamu)
Humanity
The Diamonds of Your Grace
Videos